The VIV Europe was a successful exhibition for VDL Agrotech. Many visitors came to meet us and learn about our innovations, and meet with our team. We thank you all for visiting us and sharing with you our innovations.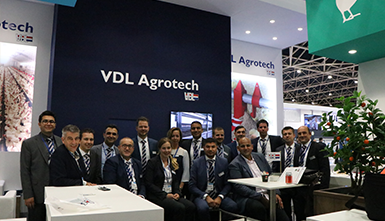 Valènta
The Flow Slider, a new feature to the Valènta feed pan, which allows you to let the feed pan overflow, making feed access outside the feed pan also possible. The Flow Slider has a great advantage that it can be used on a selected number of pans, there is no need to have all the feed pans equipped with the Flow Slider. The system operates autonomously. Just a simple handle movement opens or closes the Flow Sliders. The Flow Slider attracted a lot of attention from visitors all over the world. Press on the link to view the Valènta Flow Slider:
https://www.youtube.com/watch?v=QkyQQdzrrgc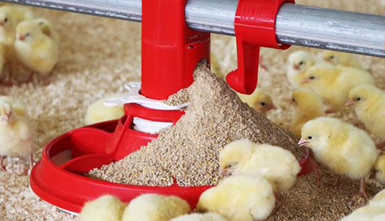 The Central Slider another new feature of the Valènta pan feeding system. The Central Slider allows the growers to centrally close off a section of the pan feeding line during thin out. When growers thin out part of the flock during the cycle the birds need to be restrained from consuming feed approx 8 hours prior to moving to the slaughter house.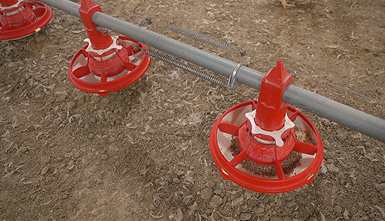 The Central Slider allows the grower to centrally close the pans in the section where the birds ready for slaughter are located. The birds which will stay on will continue to have access to feed. The Central Slider feature advantage is twofold, no growth interruption for the birds that stay, and empty crops for the birds that are going for slaughter. Press on the link to view the Valènta Central Slider:
https://www.youtube.com/watch?v=j1xkdTJR1d8
Matrix
After the successful introduction in 2012 the Matrix has become the most recommended male feeding system for broiler breeders worldwide. The new Matrix 2.0 is equipped with telescopic dispensers. Uniform feed distribution of all types of feed ( mesh, meal, pellets ) is simple and accurate with the dispensers.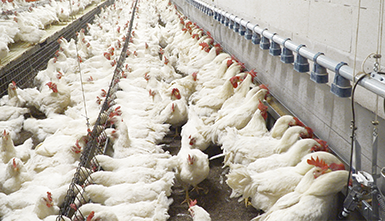 Feed level adjustment is easy by adjusting the 10 position level regulators. The suspension has been simplified using only 1 winch for both feeder tube and feed trough. The new generation Matrix continues the excellent results achieved with the previous Matrix, the enhanced user friendliness makes the system accessible to all breeder farmers. View the Matrix product movie by pressing on the following link:
https://www.youtube.com/watch?v=34dQ1fYvZ_w