On Thursday September 13 we had the privilege of hosting a special visit of an important delegation from Kenya. Members of this delegation hold high political positions in the government of Kenya, coming from the Deputy President of the Republic of Kenya His Excellency Mr. William Ruto.

The visit was part of a trade mission to call upon and connect to Dutch business partners in the poultry industry. In At this moment a farm of 50,000 laying hens is being built The intention is to expand to 1,000,000 birds ( broilers and layers combined ). Also a hatchery and feed mill is planned.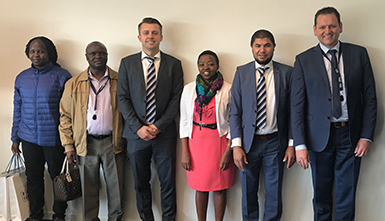 From left to right: Security Officer to H.E. Mrs. Ruto; Mr. Samuel Kiprod Maiyo, Operations Officer ODP, responsible for the poultry company; Mr. Kevin Michellys, Area Manager VDL Agrotech; Her Excellency Mrs. Rachel Ruto, wife of Deputy President His Excellency Mr. William Ruto; Mr. Marouan Assakkali, Sales Coordinator VDL Agrotech and Mr. Hans Mollen, owner of Green City International Ltd, located in Kenia and ME City BV, located in the Netherlands.
The visit was a good opportunity to present the latest innovations and introduce the delegation to the modern livestock keeping in Holland.